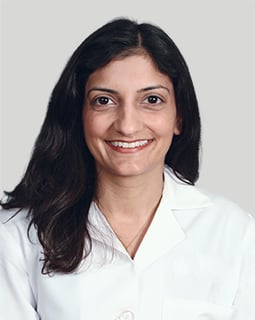 Reshma Gulati Aggarwal, MD
Reshma Gulati Aggarwal, MD
Please contact clinic directly to confirm appointment availability
Board certifications
American Board Pediatrics
Overview
Biography
Reshma Aggarwal, MD, is board certified in pediatrics. Dr. Aggarwal earned her medical degree from George Washington University School of Medicine and Health Sciences in Washington, DC. She completed her residency at UC Irvine Medical Center. Dr. Aggarwal received two commendations for superior performance as a pediatric ward senior and also received an award for superior performance in the pediatric intensive care unit. She has volunteered in various AIDS programs as well as in clinics for the needy and homeless in California, Washington, DC, and India. In her spare time, she enjoys tennis, swimming, kickboxing, and yoga. In addition to English, Dr. Aggarwal speaks Hindi and fluent Spanish.
More information
Hospital Affiliations
HEALTHCARE PARTNERS AFFILIATES MEDICAL GROUP
Languages
I speak
English,
Hindi and
Spanish.