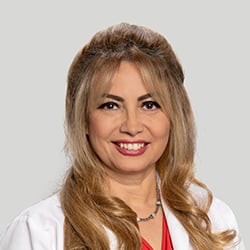 Elaheh Farhadian, MD
Elaheh Farhadian, MD
Please contact clinic directly to confirm appointment availability
Board certifications
American Board of Internal Medicine
,
Internal Medicine
Overview
Biography
Elaheh Farhadian, MD, earned her medical degree from Shahid Beheshti University in Iran. Dr. Farhadian is a hospitalist -- a physician who specializes in caring for patients in hospitals. She completed an internship and residency at Huron Hospital, a Cleveland Clinic hospital, in East Cleveland, Ohio. She believes her self-confidence, superior diagnostic skills, and eagerness to help people make her a natural in this field. An exercise buff who regularly frequents the gym, Dr. Farhadian describes herself as a fun-loving and friendly good listener who enjoys sending her patients home happy -- and healthier. In addition to English, she speaks fluent Farsi.
Qualifications
Medical School
Shahid Beheshti University of Medical Sciences
1998
Internship
Cleveland Clinic Foundation
2005
Residency
Cleveland Clinic Foundation
2007
More information
Hospital Affiliations
California Hospital Medical Center
Languages
I speak
English,
Farsi and
Spanish.