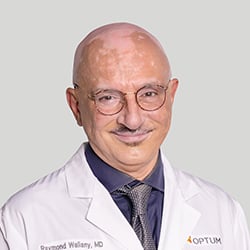 Raymond Waliany, MD
Raymond Waliany, MD
Please contact clinic directly to confirm appointment availability
Board certifications
American Board of Internal Medicine
,
Internal Medicine
Overview
Biography
Raymond Waliany, MD, is board certified in internal medicine. Dr. Waliany earned his medical degree from Dow University of Health Sciences in Pakistan. He completed his internship at Cook County Hospital in Chicago and his residency at LAC + USC Medical Center in Los Angeles. Dr. Waliany values the nature of his work as it is the convergence between intellectual curiosity and making a difference in the world. He strives to bring his patients joy by empowering individuals to achieve their health goals. Dr. Waliany's mantra is do no harm, and he approaches each patient with compassion and undivided attention. When he's not caring for his patients, Dr. Waliany loves connecting with friends and families. He passionately follows world politics and business news. Dr. Waliany enjoys staying active, gardening and power walking. In addition to English, Dr. Waliany speaks Spanish, Hindi and Urdu.
Qualifications
Internship
Cook County Hospital
1991
Residency
LAC + USC Medical Center
1993
More information
Languages
I speak
English,
Hindi and
Spanish.