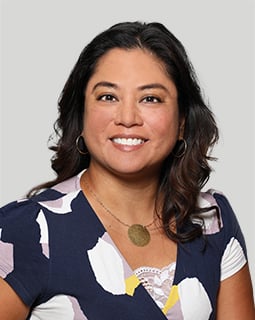 Christine De Asis Chen, MD
Christine De Asis Chen, MD
Please contact clinic directly to confirm appointment availability
Board certifications
American Board Pediatrics
Overview
Biography
Christine de Asis Chen, MD, is board certified in pediatrics. Dr. Chen earned her medical degree from the University of Texas Southwestern Medical Center at Dallas, Southwestern Medical School. She completed her internship and residency at the University of Texas Health Science Center in San Antonio. Dr. Chen really enjoys children. She puts her young patients at ease by laughing and joking with them. In addition, Dr. Chen interacts well with parents, teaching them preventive medicine techniques to keep their children as healthy as possible. In her spare time, she enjoys listening to music, and watching movies and television programs with her family. In addition to English, Dr. Chen speaks Spanish.
Qualifications
Medical School
University of Texas - Southwestern Medical School
2006
More information
Hospital Affiliations
HEALTHCARE PARTNERS AFFILIATES MEDICAL GROUP
Languages
I speak
English and
Spanish.