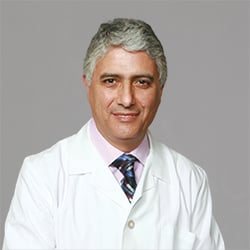 Hessam Aazami, MD
Hessam Aazami, MD
Please contact clinic directly to confirm appointment availability
Overview
Biography
Hessam Aazami, MD, practices general medicine. Dr. Aazami earned his medical degree at Bologna University Medical School in Italy where he also interned. He completed his residency at the University of Southern California (USC) in Los Angeles. Dr. Aazami is known for his warm, friendly personality and his dedication to patients of all backgrounds. His priority is to educate patients on how best to control diabetes, hypertension, obesity, and other treatable medical conditions. In his spare time, Dr. Aazami enjoys playing tennis, basketball, and hiking. In addition to English, Dr. Aazami is fluent in Spanish, Italian, and Farsi.
Qualifications
Medical School
University of Bologna
1989
Internship
University of Bologna - School of Medicine
1993
Residency
LAC+USC Medical Center
2002
More information
Hospital Affiliations
101 FAMILY MEDICAL GROUP INC
Languages
I speak
English,
Farsi,
Italian and
Spanish.